BIO-FILMOGRAPHY (director, ERIC TRETBAR)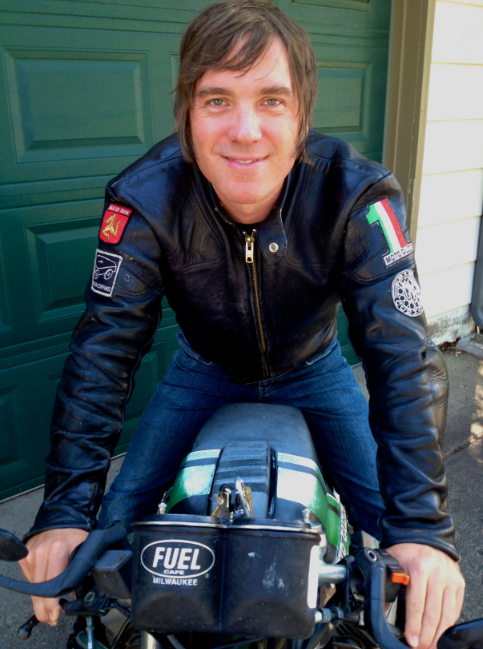 GIRL MEETS BIKE is the 7th feature film by Minneapolis-based Eric Tretbar.  His films have won the audience award at the Berlin Film Festival, received an Independent Spirit Award nomination (the indie Academy Awards), and aired on the Sundance Channel, German TV, and NBC.  They've also screened in competition at world festivals, including London, Athens, Sao Paulo, Warsaw, Seattle, Toronto, Rivertown, Orlando, Vienna, Hong Kong, Melbourne, Los Angeles Independent, The American Film Institute, and The Walker Art Center. 
Eric is an avid motorcycle enthusiast and musician, scoring much of his film music, and drumming for Minneapolis and L.A. garage/R&B/punk outfits THE FUNSEEKERS, THE SPECTORS, THE RED HEARTS and FRIENDS LIKE THESE.  Eric also teaches film production and history at Carleton College and Minneapolis College of Art and Design.  
FILMOGRAPHY
GIRL MEETS BIKE (2013, 105:00/color/drama/USA)
AMERICANS (2011, 56:00/color/documentary/USA)
INQ409 (2008, 95:00/color/drama/USA)
THE HORRIBLE FLOWERS (2006, 83:00/color/drama/USA)
GIGI 12x5 (2005, 92:00/color/drama/USA)
ZENITH (2003, 56:00/color/documentary/USA - co-producer)
SNOW (1998, 82:00/b+w/drama/USA)
THE USUAL (1992, 80:00/b+w/drama/USA)